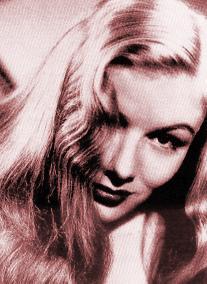 This season, celebrities and make-up artists have fallen head over heels in love with the 1940s.

Dita Von Teese's trademark look draws heavily on sexy 1940s styling with scarlet lips and glossy waves. The burlesque artist is such an admirer of the decade, it was recently announced she's designing her own collection of vintage style lingerie.

Actress Kelly Brook is also a self-confessed fan of the decade, regularly drawing on it to style red-carpet looks. She says: "I look to the irrepressible Bettie Page when I want 1940s inspiration, because she exuded a happiness and self-confidence that's rare today."

1940s FACE: Chase Aston, make-up artist for The Body Shop, shows you how to bring the 1940s into the noughties.

LIPS: "To achieve a classic red lip and retro glamour, apply a bold red lipstick to a bare lip, pucker down and gently pat colour with fingers for a super matte look," he advises.

BROWS: "Bold brows are a key look for the 1940s-inspired face, so put away the tweezers and allow your brows to bloom," Chase says. "Using a baby toothbrush, brush brows up, then using a brow pencil, shape and define in a bold stroke following the natural shape. Finally, comb through with a lash gel to set with a glossy sheen."

BASE: "A natural, flawless matte complexion was the look favoured by 1940s Hollywood starlets. To avoid your base looking too mask-like, use a cream to powder foundation and apply using a foundation brush. This ensures a natural yet flawless finish," Chase recommends.