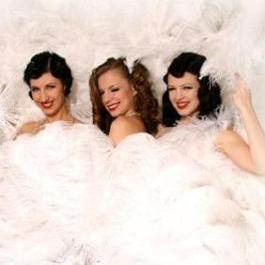 The sugar-coated striptease - which doesn't necessarily end in everyone getting down to their pasties - teaches turn on techniques, curve flaunting and general sensual fun combined with the emotion of theatre and glamorous costumes.

Those who have taken to the tassles, suspenders, corsets, feather boas and other glamorous 1940s and 50s garb that comes with the territory, report that they feel the burlesque stage is the one place where curves are seen as a good thing in a celebrity obsessed world where being stick thin seems best.

There's no need to go so far as lounging pretty much naked in a transparent martini glass a la current queen of burlesque Dita Von Teese.

Unlike the pole dancing trend which took off a while back, burlesque doesn't result in bruises, dizziness, bashed knees and carpet burn.

And you don't require thighs with the power to grip the pole like a bear trap grabs its prey. No training Demi Moore in Striptease style necessary.

It's the booty and bust which enable burlesque performers to "hit" all the right moves.

Women who come to the classes dressed in uptight power suits soon find the lure of the tease appealing, and over weeks of practice find the confidence to take off the pencil skirts and put on a brave face.

It's empowering, with tricks learnt put into practice at home.