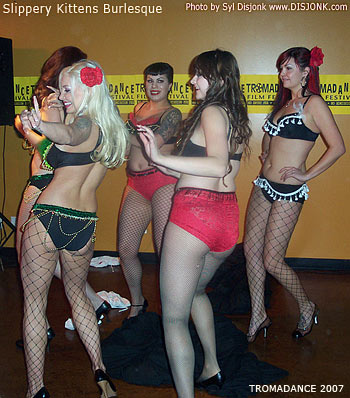 Stiletto heels click across a wooden floor, swishing through bright feathers dropped from boas. Fishnets cover dancers' legs, ending in lacy panties or short skirts. T-shirts knot above curvy hips, cleavage spilling out the top.

"I feel so overdressed," says Tinya Duffey, a 35-year-old teacher, who's dressed in a long black skirt and matching sweater. A green boa, provided by the studio, snakes around her neck -- the only touch of burlesque on her.

Sipping a glass of wine, she leans her elbows on her knees and says, "I wasn't aware everyone was going to show skin."

But that's what this class -- and other burlesque classes -- is all about: dressing sexy, drinking wine and dancing seductively.

There are no poles here, no raunchy moves that show all. But at its core, burlesque dancing is a striptease. Clothes don't come off, but the dancers indicate it might -- if they feel like it.

"It's more about the performer and less about the audience," says Laura Herbert, who sits on the board of directors for the Burlesque Hall of Fame in Las Vegas. "It's about commanding attention and having that positive self-esteem. It's hard to take off your clothes in front of a roomful of people."

Burlesque dates back to the late 1800s. The performance, a tease of revealing and concealing, allows the dancer to decide what to show and when -- though much of the dance is just innuendo and imagination.

There's something about strutting around in 4-inch heels and hot pants that makes women feel strong, whether they're students, professionals, grandmothers -- maybe even your mother. And burlesque embraces tummies and cellulite, hips, busts and wrinkles.

But getting comfortable with all that takes time.

Inside the second-level dance studio of Springs Salsa & Dance Fitness in Colorado Springs, Colo., silky curtains fall over the windows. Women gather on the floor, facing a mirrored brick wall.

Springs Salsa has hosted a burlesque class since last summer. You can pick out the regulars -- the ones who know about the BYOB rule (bring your own boa) and where to buy sexy stockings. Newcomers, dressed in workout gear, hang around the back of the studio, venturing from their friends only to pour a glass of wine.

"We're about to begin an adventure that only ladies can participate in," says instructor Shaina Wexler. "And cross-dressers."

Burlesque music, filled with horns and sass, drifts out of the stereo. Misty begins the warm-up -- legs together, she tilts her hips, first to the right and then to the left. She puts an arm out in front of her and mimes putting on a glove. She lifts her gloved hand in the air, pretending to take the glove off.

Gradually the students stop focusing on each other and start staring at themselves. They try out a pout or a kiss.

They practice sexiness -- taking inanimate objects and adding sex appeal through movement. They dance with a coffee cup, paddle brush, or can of hairspray, making up dance moves as they go.

"It's all about having fun with yourself," says Holly Hollenbeck, 24. "They make the environment so comfortable."